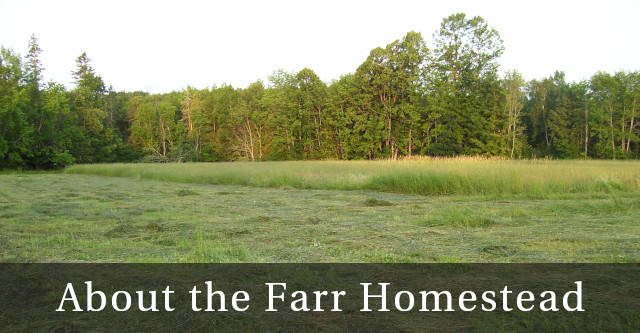 We are the Farr Homestead, a small-scale organic family farm in Troy, Maine. We enjoy growing a diverse range of different crops and animals, and are Certified Organic by MOFGA (the Maine Organic Farmers and Gardeners Association). Our organic certification represents our commitment to wise stewardship of the land. We do not use any artificial or chemical pesticides or fertilizers, and like all organic products, our crops and birds are non-GMO.
Maximum ecosystem complexity is a priority on our farm. Rather than trying to wipe out plants or insects that may be causing us trouble in the short term, we seek long term solutions. These include methods like growing plants and flowers to attract beneficial insects, rotating crops, timing the planting and harvesting of crops to avoid certain windows of peak pest activity, and when all else fails, good old-fashioned hand-picking of beetles!
As part of our commitment to sustainable agriculture, we also breed and maintain many of our own plant varieties, as well as chickens. This allows us to provide heirloom plant varieties and top-quality birds to other local gardeners.
Download a copy of our organic certificate